You are invited to join the second event in the Mindgardens TRSP Webinar Series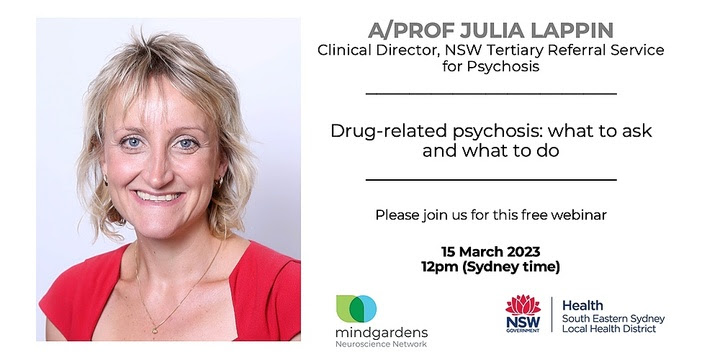 The Mindgardens TRSP Webinar Series is designed for clinicians working with people with complex psychosis.
Associate Professor Julia Lappin is a psychiatrist and the Clinical Director of the NSW Tertiary Referral Service for Psychosis (TRSP). She is also an Associate Professor at the University of New South Wales School of Psychiatry and Mental Health. She trained in psychiatry at the Maudsley Hospital, London and completed her PhD at King's College, London, on the topic of outcomes following a first episode of psychotic illness.
A/Prof Lappin's research program focuses on improving outcomes for people living with psychotic illness, including people with substance use and other comorbidities. This clinical research is embedded in the TRSP, which delivers a holistic approach to care, enabling greater access to evidence-based interventions, including psychological, psychosocial and physical health treatments.
WEBINAR LEARNING OUTCOMES:
To understand the relationship between psychotic experiences and substance use, particularly cannabis and methamphetamine;

To know what to ask when assessing risk factors for the development of enduring psychotic illness;

To detail the evidence for what works in treating co-morbid psychosis and substance use.
Accessing the Webinar
You can register for this free webinar here:
https://events.humanitix.com/mindgardens-trsp-webinar-drug-related-psychosis-what-to-ask-and-what-to-do-a-prof-julia-lappin
Alternatively you can simply add the webinar to your calendar and join us on the day, using the Zoom link provided.
Please use the link below to join the webinar.
When: March 15, 2023 12:00 PM Canberra, Melbourne, Sydney
Topic: Mindgardens TRSP Webinar: A/Prof Julia Lappin
https://us02web.zoom.us/j/8635...
About the Mindgardens TRSP Webinar Series
The NSW Tertiary Referral Service for Psychosis (TRSP), supported by the NSW Ministry of Health, aspires to improve care for people living with complex psychosis.
The Mindgardens TRSP Webinar Series provides free presentations from national and international experts in complex psychosis, in a regular forum for learning and debate to inform best practice among clinicians.
The webinars are presented through a partnership between TRSP and Mindgardens Neuroscience Network, and will run approximately monthly through 2023 on Wednesdays at 12pm (Sydney time).
For all enquiries regarding the Mindgardens TRSP Webinar series please contact Robin Ellis via This email address is being protected from spambots. You need JavaScript enabled to view it.