News & Media
Mindgardens TRSP Webinar Series
You are invited to join the second event in the Mindgardens TRSP Webinar Series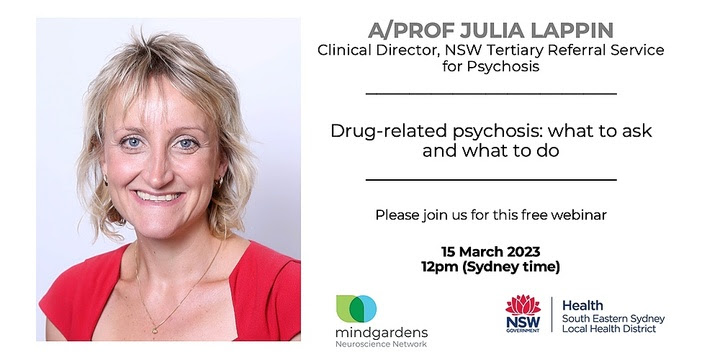 The Mindgardens TRSP Webinar Series is designed for clinicians working with people with complex psychosis.
Associate Professor Julia Lappin is a psychiatrist and the Clinical Director of the NSW Tertiary Referral Service for Psychosis (TRSP). She is also an Associate Professor at the University of New South Wales School of Psychiatry and Mental Health. She trained in psychiatry at the Maudsley Hospital, London and completed her PhD at King's College, London, on the topic of outcomes following a first episode of psychotic illness.
A/Prof Lappin's research program focuses on improving outcomes for people living with psychotic illness, including people with substance use and other comorbidities. This clinical research is embedded in the TRSP, which delivers a holistic approach to care, enabling greater access to evidence-based interventions, including psychological, psychosocial and physical health treatments.
WEBINAR LEARNING OUTCOMES:
To understand the relationship between psychotic experiences and substance use, particularly cannabis and methamphetamine;

To know what to ask when assessing risk factors for the development of enduring psychotic illness;

To detail the evidence for what works in treating co-morbid psychosis and substance use.
Accessing the Webinar
You can register for this free webinar here:
https://events.humanitix.com/mindgardens-trsp-webinar-drug-related-psychosis-what-to-ask-and-what-to-do-a-prof-julia-lappin
Alternatively you can simply add the webinar to your calendar and join us on the day, using the Zoom link provided.
Please use the link below to join the webinar.
When: March 15, 2023 12:00 PM Canberra, Melbourne, Sydney
Topic: Mindgardens TRSP Webinar: A/Prof Julia Lappin
https://us02web.zoom.us/j/8635...
About the Mindgardens TRSP Webinar Series
The NSW Tertiary Referral Service for Psychosis (TRSP), supported by the NSW Ministry of Health, aspires to improve care for people living with complex psychosis.
The Mindgardens TRSP Webinar Series provides free presentations from national and international experts in complex psychosis, in a regular forum for learning and debate to inform best practice among clinicians.
The webinars are presented through a partnership between TRSP and Mindgardens Neuroscience Network, and will run approximately monthly through 2023 on Wednesdays at 12pm (Sydney time).
For all enquiries regarding the Mindgardens TRSP Webinar series please contact Robin Ellis via This email address is being protected from spambots. You need JavaScript enabled to view it.
Position Vacant: Staff Specialist - Clinical Director Addiction Medicine
Staff Specialist - Clinical Director Addiction Medicine
Applications Close: 2 October 2022
Apply via (eCredential)
Northern NSW Local Health District
Employment Type: Permanent Part Time
Position Classification: Staff Specialist
Remuneration: $246,059 - $332,434 per annum full time equivalent, depending on experience
Hours Per Week: 24
Requisition ID: REQ338900
What you'll be doing
Provide contemporary comprehensive specialist services for optimal patient outcomes. Provide and support training to clinicians across multiple disciplines to achieve quality education and safe clinical practice.
Why you should consider applying
We can offer you:
Diverse career pathways
Professional and personal development
Help with further study and education
Flexible and supportive work environment
Opportunities to start or build a career, or re-enter the workforce
Challenging, inspiring and rewarding roles, and
The opportunity to make a difference!
Where you'll be working
Tired of big cities? Want to start your days sitting on your deck in the sun, enjoying a cup of coffee and listening to the birds? Or would you rather have a surf or a walk along the sand before work? Wonderful beaches, world heritage-listed national parks, hinterland villages, great food and fine wine, excellent private and public schools, warm and friendly staff are all waiting for you on the North Coast.
For more information visit Northern NSW Local Health District
Northern NSW Local Health District embraces the diverse skills and perspectives that our people bring to the workplace. We foster inclusiveness and diversity to help us deliver quality care to our community.
Enquiries: Deidre Robinson on Email: This email address is being protected from spambots. You need JavaScript enabled to view it. or Tel: 02 6620 2623 or 02 6620 2318
Applications Close: 2 October 2022
Apply online at: https://jobs.health.nsw.gov.au/jobs/nnswlhd-staff-specialist-clinical-director-addiction-medicine-apply-via-ecredential-167044
Drug and Alcohol Review - Call for Papers
Call for Papers – How substance use is portrayed in digital media and what impacts can it have
This Special Section aims to bring together contributions that look at how substance use is portrayed in digital media on diverse platforms, what impact it has, what new innovative methods are available to measure exposure and its impact, and whether these platforms can be used to reduce substance use.
Call for Papers – Vale Jude Byrne

A special section of Drug and Alcohol Review with articles on peer researchers; hepatitis C virus and injecting drug use; ageing and drug use; women who use drugs; parents who use drugs; and international advocacy and human rights
The Future of Addiction Science Symposium
We are excited to be holding our first in-person event for two years THE FUTURE OF ADDICTION SCIENCE SYMPOSIUM in Brisbane.
When:

Sunday 10 July 2022

Scan the QR Code below to register

Where:

Sofitel Brisbane Central
249 Turbot St Brisbane QLD

Cost:
APSAD Members: FREE

Non-members: $110

Registration:

Our International Keynote Speaker is Professor John Marsden, Professor of Addiction Psychology, Addictions Department, Institute of Psychiatry, Psychology & Neuroscience at King's College London, and Editor-in-Chief of Addiction.
Keynote presentation on: Formulation-Driven and Measurement-Based Care.
There will also be featured presentations from APSAD experts. Download a copy of the progam for all the details, or head to the Symposium page for more information.
Download the flyer to share with your colleagues.
ASCP Webinar: An update on the Royal Australian College of General Practitioners (RACGP) guidance on the role of Nicotine Vaping Products in smoking cessation
ASCP Webinar: An update on the Royal Australian College of General Practitioners (RACGP) guidance on the role of Nicotine Vaping Products in smoking cessation
Presenter: Prof Nicholas Zwar, Bond University and Chair of Expert Advisory Group for the publication
As Chair of the Content Advisory Group, Professor Nick Zwar will provide an update on the Royal Australian College of General Practitioners (RACGP) guidance for smoking cessation. This presentation will critique new changes to the regulation of nicotine as per new rescheduling of nicotine e-liquids and outline revised recommendations and practice points.
When: Thursday 24 March 2022 Add to Calendar
Time: 1330 (AEST) / 1430 (AEDT)
Registration Link: https://us02web.zoom.us/webinar/register/WN_iMJmWq7nRfGb1-5yMCztjg

Calling for nominations for chair position for the ASCP-SIG
Australasian Smoking Cessation Professionals Special Interest Group (ASCP-SIG)
If you would like to nominate for the position, please complete the nomination form and return it no later than Wednesday 1st December to Deborah Dmoch at;
Email:
This email address is being protected from spambots. You need JavaScript enabled to view it.
;
Fax: (02) 9252 2209
Download the nomination form
Have an Interest in Smoking Cessation?
Registration to join the ASCP-SIG is open to all financial members of APSAD who are interested in nicotine addiction and smoking cessation. If you are already an APSAD member and not on the SIG listserv
download
and complete the brief form, and you'll be added to the SIG membership and the listserv.
Networking opportunities with access to the APSAD Smoking Cessation Listserv will get you in touch with other tobacco treatment specialists to discuss smoking cessation related topics.
We encourage members to join us at this year's ASCP-SIG annual meeting.
Details are as follows:
THURS 2 DECEMBER 12 PM (Sydney, Melbourne, Canberra) | 11 AM (Brisbane) via zoom.
A copy of the meeting agenda will be sent out closer to the time.
To join the meeting:
Zoom:
Access Link
ID: 913-492-2698
Password: 889059
‪Phone: (AU) 07 3185 3730, ‪(NZ) 4886 0026
ASCP-SIG Annual UPDATE DAY - Online
SUNDAY 7 NOVEMBER
09:00 - 12:00 (AEST) | 10:00 - 13:00 (AEDT)
The annual Australasian Smoking Cessation Professionals (ASCP) Update Day provides an important avenue for ASCP to promote latest research and best practice approaches in the treatment of nicotine dependence and smoking cessation. The Update Day is open to any worker who is interested in enhancing their knowledge around tobacco cessation / electronic nicotine delivery systems and the latest evidence based treatment interventions.
This year the APSAD Smoking Cessation Special Interest Group Update Day will focus on a range of topics including:
Nicotine vaping - evidence on efficacy for supporting smoking cessation, possible harms, and experiences with nicotine vaping on both sides of the Tasman

Adolescents and exposure to nicotine

Cytisine for smoking cessation

Smoking and smoking cessation in First Nations people

Brief student presentations
To register click here | Download the program
A meeting of the ASCP Special Interest Group members will be held at 12:00 (AEST) | 10:00 (AEDT) Thursday 2 December, more details will be announced soon. This meeting is open to all APSAD members.
2021 APSAD Brisbane Conference Moving to Virtual
Important Update – 2021 APSAD Brisbane Conference Moving to Virtual
We were looking forward to seeing everyone at APSAD 2021 in Brisbane, however, due to the ongoing COVID-19 lockdown in some states, the fluctuating situation around Australasia, and its impact on our community's ability to travel to the conference, we have made the difficult decision to move the 40th APSAD Conference to a fully virtual conference. Our priority is the safety of our staff, delegates, sponsors and stakeholders and we do not feel that holding a large indoor public gathering is the right thing to do at this time.

As the conference was already a hybrid model, we are fully equipped and ready to deliver a world-class virtual event. There will be plenary sessions and concurrent sessions, along with the pre-conference workshops and breakfast sessions.

All sessions will be recorded and available for delegates to view at a later date for up to 3 months.

The conference will still be held over 3 days and there will be a mix of live presentations (including panel discussions) and pre-recorded presentations with presenters live online answering questions.

The dates and schedule of the conference are unchanged, and conference registration (at the lower virtual rate) will still be required for all attendees and speakers. We consider the current circumstances as an opportunity to innovate the conference into an engaging virtual event that will be rewarding for both presenters and attendees.

For delegates that have registered and paid to attend face-to-face, registrations will be changed to virtual and refunds will be automatically arranged to return the difference in ticket cost, no action will be required from you to facilitate this process. In addition, we will continue to provide regular updates as we move this event to virtual. Please bear with us as we implement these changes, we will be in touch with everyone who has registered as soon as we can.

We acknowledge the difficult situation many of those in the sector and community find themselves in during extended lockdowns and border closures, and will cover the 30% administration charge. Therefore, if you have already paid for your registration, the difference in value will be fully refunded. If you have purchased a conference dinner ticket, this will be fully refunded.

We would like to take this opportunity to thank our sponsors and exhibitors, we greatly appreciate the ongoing support for this leading alcohol and other drugs conference and look forward to continuing to work with you in the virtual environment.

More information about the digital platform and virtual format will be posted soon along with details of the conference program and satellite events.

Secure your ticket to APSAD 2021 | APSAD 2021 Brisbane Conference Website (apsadconference2021.com.au)
APSAD Conference Convenors | Prof Leanne Hides and A/Prof Mark Daglish
NEW APSAD ADVOCACY AWARD!
NEW AWARD CATEGORY FOR 2021

As part of the Society's 40th Anniversary celebrations, we are announcing a new Advocacy Award, in order to recognise the outstanding impact by an individual or a team in the alcohol, tobacco, and other drugs sector who works in the policy and/or advocacy area.
This is the first APSAD Award open to teams and the recipient of the Advocacy Award will have the opportunity to present a workshop at the APSAD Conference in November.
Details for the new Advocacy Award:
Nominations can be for any individual or team that meets the criteria for the Advocacy Award category.
APSAD Membership is not a prerequisite, nor is it of any advantage or disadvantage during the nomination process.
The nominator must be a current (financial) member of APSAD. Any member can nominate across multiple Award Categories.
Nominations close 7 September 2021, the Award recipient is announced in October and is given the opportunity to organise a workshop at the 40th APSAD Conference in Brisbane.
The Recipients for all Award Categories are announced at the official Awards Ceremony held during the 40th APSAD Conference in Brisbane on 8-10 November.
18th Annual APSAD Awards
The 18th APSAD Awards for Excellence in Science, Research, & Practice
APSAD is pleased to confirm that the 2021 Annual Awards for Excellence in Science, Research, & Practice is calling for nominations. The Awards will be presented in Brisbane at the 40th APSAD Conference in November.
Australia's leading multidisciplinary organisation for professionals involved in the drug and alcohol field, these prestigious Awards are our unique celebration of the outstanding efforts and achievements of individuals and teams who provide devoted and unstinting service to their communities in diverse fields and go unrecognised.
Acknowledging dedication and excellence in our sector is a key part of the APSAD Awards, as well as encouraging future generations of great researchers and clinicians.
The Awards are nominated by APSAD's members and decided by the APSAD Awards Subcommittee. The recipients of the Early Career and Advocacy Awards will be announced in October 2021.
Head to the Awards page for more information.